There are many reasons why you need a jewellery valuer and you can place your trust in an N.A.J.'s Institute Registered Valuer . The N.A.J.' s Institute of Registered Valuers is the UK's leading association of jewellery valuers and celebrated its Silver Jubilee in 2012.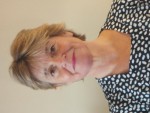 A confidential, professional valuation service is provided by Ms Andrée Richardson, for and on behalf of J E  Allnutt  & Son.  Andrée is a totally independent, professional valuer, qualified diamond expert and gemmologist,  she has over forty years valuation, diamond and gemmological experience in the jewellery industry. Andrée is a Fellow of the National Association of Jewellers Institute of Registered Valuers who adheres to the highest ethical standards,  providing  independent, detailed valuation documents.
Her unique NAJ Web ID number is 145456.
Ms Andrée Richardson BSc (Hons), has been a Fellow of the Canadian Gemmological Association since 1987 and member of the Gemmological Association of Great Britain (Gem-A) since 1981. In 1993 became a member of the  previous National Association of Goldsmiths  scheme for valuers.
Andrée became Fellow of the National Association of Jewellers Institute of Registered (NAJ IRV) Valuers in 2011. All Fellows and Members are bound by the NAJ IRV Principles of Good Practice for Valuers, which sets the standards to be attained and maintained by their members.
In 2016 Andrée obtained the Gem-A's prestigious worldwide Diamond Diploma and obtained Diamond membership of the Gem-A.
Other professional memberships include :-
Member of the AHS Antiquarian Horological Association
Member of the Society of Jewellery Historians.
A professional valuation document includes:
A full examination of your items
A complete and accurate record of your precious items
Clearly identifies the items
Provides precise descriptions which include factual data, assessment and digital images
Gives a justifiable value conclusion
Valuations are carried out on :-
           Jewellery, including antique, foreign, modern, and high net-worth pieces
           Asian jewellery  
           Watches
           Silverware and flatware
Arrangements can be made for laboratory certification of gemstones, diamonds and pearls. Grading and assessment by such laboratories can influence and be most helpful when assigning a value to items and is often important in identifying whether a gemstone, diamond or pearl is natural or has been subjected to certain enhancement/treatments, or indeed synthetic.
Valuations are carried out for :-
Insurance – Wear and enjoy your valuable gems, jewellery and watches, use your silver and display your trophies, knowing you have obtained the right, detailed valuation. The valuation for Insurance provides a factual identification and expert assessment of the value for your items so that you may arrange the appropriate cover for insurance.
Inheritance Tax Assessment – (in Scotland confirmation of Will) – the values calculated represent an assessment based on mid-auction estimates as at date of death. The valuation document provided will comply with Section 160 of IHTA 1984.
Post Loss Assessments
The Post-Loss Assessment is not classified as a valuation.
If you have a burglary or unfortunate loss of loss of your jewellery or watches, Andrée has the knowledge and expertise to provide a Post-Loss Assessment estimate for replacement. The Post-Loss Assessment is based upon information given by yourself and any previous documentation or digital images, this assessment you can then present to your insurers.
The valuation document usually takes 2-3 weeks but for larger valuations, say over 15 items, it will be most likely 3-4 weeks. Home visits are available but please contact us on 01730 813495 to obtain a quote prior to the appointment.